OrionStar Restaurant Solutions: Restaurant Automation 3.0
2023-05-11 15:09
According to the 2023 BLS Employment Situation Report, the United States is grappling with a labor shortage and rising hourly wages. Between February 2020 and January 2023, the country has seen a reduction of 2.8 million workers. Additionally, from February 2022 to February 2023, wages increased by 5.3%. These challenges are impacting various industries, including the restaurant industry.
The restaurant industry faces long-standing pain points affecting different roles. Owners struggle with labor shortages and increasing costs. Servers experience low-income and repetitive manual labor. Customers deal with long wait times, slow service, and poor experiences, resulting in low satisfaction. To address these challenges, many businesses are turning to restaurant automation solutions.

OrionStar Restaurant Solutions has developed Restaurant Automation 3.0[1], which integrates intelligent robots with self-ordering and self-checkout devices, KDS, table trackers, and robot call buttons. The solutions can be seamlessly incorporated into the existing workflows of the restaurant to enhance efficiency and customer experience.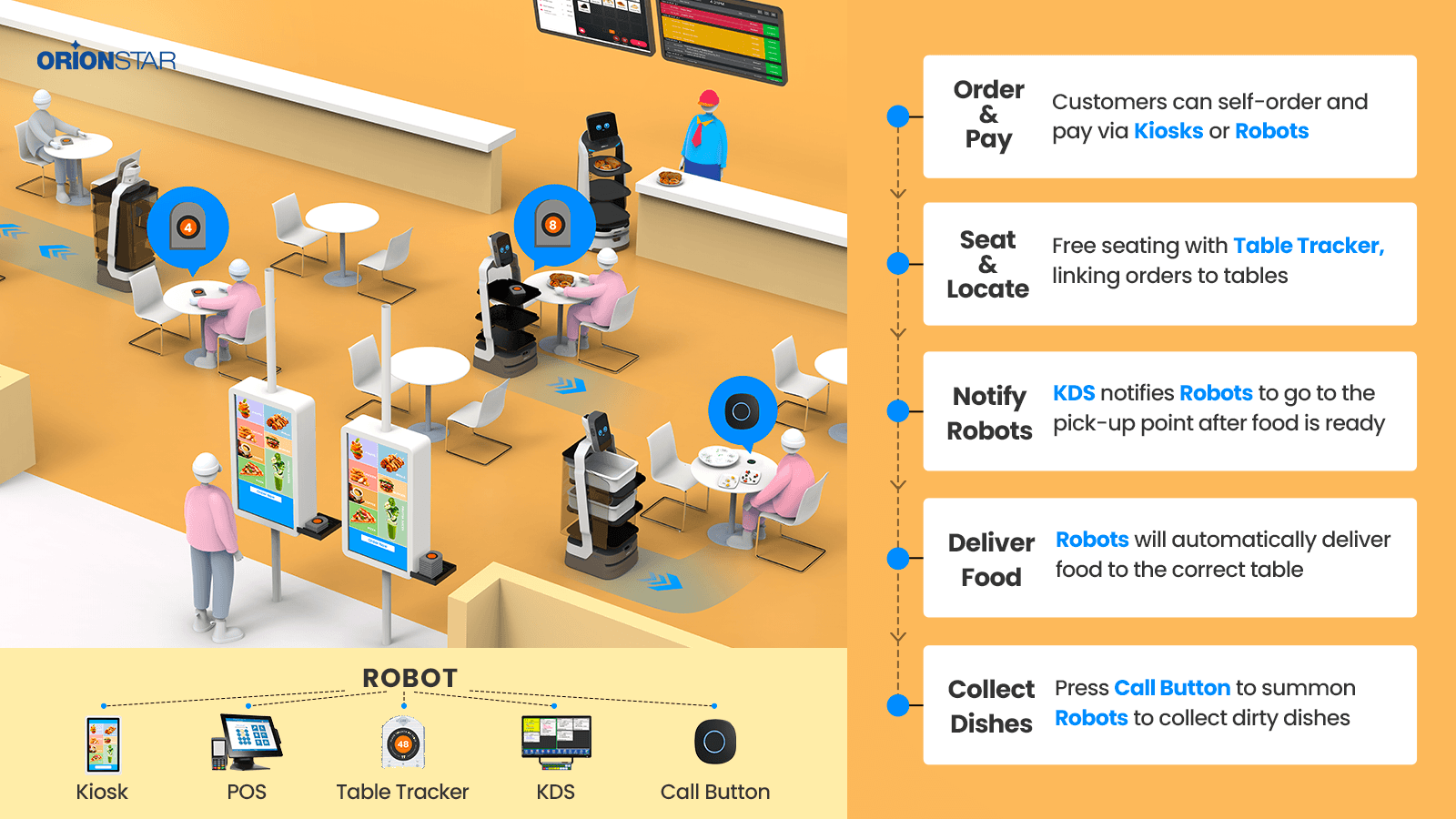 Order and Pay Solution integrates with restaurant POS systems, allowing customers to order and pay directly through the robot while supporting three payment methods: third-party payment, credit cards, or server call. The user experience is enhanced with voice interaction and touchscreen operation. The kiosk's mobile design includes voice command interaction for a more convenient and user-friendly experience.
Smart Positioning Solution integrates with a restaurant's POS system, Table Tracker, and delivery robots, allowing customers to choose seats and associate orders with tables. The table tracker will assist robots in identifying the correct table for meal delivery.
Meal Delivery Solution utilizes delivery robots to transport dishes and drinks from the kitchen to the table. When the meal is ready, the KDS calls the robot to the pick-up area, and after the server places the food, the robot autonomously delivers it to the table. Cup holders are also provided to ensure the stability and efficiency of drink delivery. Up to 30 robots can collaborate seamlessly together to maximize delivery efficiency.
Smart Summon Solution allows customers to order more food by summoning a robot to their table with a button. The robot can also transport dirty dishes back to the dishwashing room. In some fast-food restaurants, roaming robots collect dirty dishes. This solution improves the working conditions of restaurant staff, particularly in aging societies, by making their work more humane.
Comparative Advantages of OrionStar Solutions
High-Quality Hardware for Better User Experience
Equipped with a high-performance Qualcomm 845 chip, OrionStar provides more powerful computing capabilities, resulting in a better user experience. The hardware components, including the microphone array, camera, and navigation system, are top-of-the-line in terms of performance, ensuring reliable and efficient operation.
Open System for More Compatibility and Development Opportunities
OrionStar offers an open system, which supports more secondary development and compatibility with a wider range of software and hardware devices. This allows for greater flexibility in customizing and optimizing the robot for specific use cases and enables easier integration with other systems and devices.
Advanced Voice Interaction with ChatGPT
OrionStar robots are integrated with ChatGPT, the industry's leading conversational AI system, which enables robots to provide powerful voice interactions in over 30 languages. By incorporating proprietary restaurant content and leveraging ChatGPT's extensive public knowledge base, the robot's response experience is significantly enhanced.
Application Cases and Benefits

OrionStar's robot solution has transformed the dining experience at a popular restaurant in America. With around 500 daily delivery tasks and serving approximately 200 customers, the restaurant required an efficient solution to ensure timely and accurate food delivery.
Two delivery robots have transformed the restaurant by completing 400 daily deliveries over 15 kilometers, and automating 80% of delivery tasks, freeing staff from repetitive work. With staff now able to focus on high-value table service, there has been a significant increase in tips, with one server earning over $300 per day.
The accuracy and precision of the robots have ensured quick and accurate delivery, even during busy periods, creating a smooth and efficient operation. Overall, OrionStar's robot solution has revolutionized how food and drinks are served, providing a more pleasant dining experience for both customers and staff.
About OrionStar Robotics
OrionStar Robotics is a world-leading robotics company, providing intelligent solutions across diverse industries since 2016. Their goal is to use technology to free people from repetitive tasks, allowing them to focus on more creative and meaningful work. As of March 2023, OrionStar has deployed over 48,000 robots in more than 40 countries.
To learn more about OrionStar Robotics, please visit en.orionstar.com, or follow OrionStar on social media: LinkedIn / YouTube / Facebook / Twitter / Instagram
[1]"Restaurant Automation 1.0" refers to basic electronic cash register systems, while "Restaurant Automation 2.0" uses advanced technologies like automated ordering and inventory management. "Restaurant Automation 3.0" is the most advanced version, using AI, cloud computing, and automation to improve efficiency and customer experience, such as using robots for food delivery.